Have you ever dreamt of being a bus driver? Cruising down the streets and enjoying the panoramic view of the city. Well, now you can make that dream a reality!
With some of the best bus simulator games (Android & iOS), you can hit the road without ever leaving your couch. You'll get to modify your bus, get people from one spot to another, and enjoy being behind the wheel.
From scenic countryside routes to bustling city streets, these games offer a variety of environments to navigate. Whether you're looking for realistic graphics, a variety of vehicles, or just some good old-fashioned fun, we've got you covered. So put on your virtual seatbelt and let's get into it!
Bus Simulator : Ultimate
This game lets you get a thrilling exp as a bus driver and business owner. With over 20K cities and counties to pick from, you'll have endless opportunities to explore as you manage your own bus company. You start small but have the potential to get offices around the world.
The passenger system provides social and realistic reactions, making the experience all the more immersive. But that's not all! The app covers over 30 coach buses for you to try. Each with its own detailed cockpit and naturalistic sound effects, so you'll feel like you're really behind the wheel.
And if you're on a long drive, don't worry, there are 250 radio stations to keep you entertained. One unique aspect is the used bus market. So if you really want to get the full spectrum of the bus industry, you can purchase used buses and restore them to their former glory.
And speaking of glory, passengers might review you, so be sure to provide top-notch service. From highway toll roads to realistic weather conditions like rain and snow, this game truly has it all.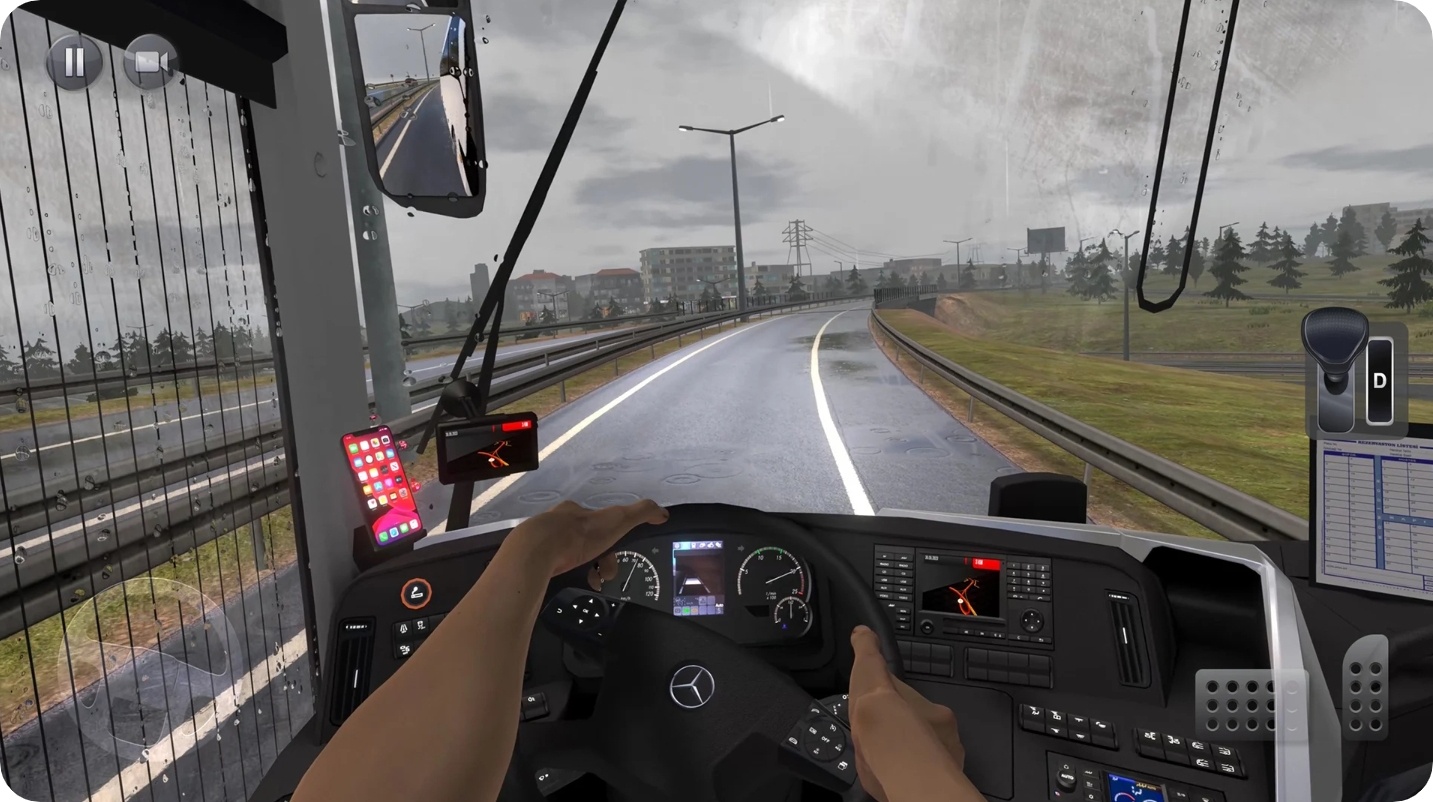 You may also like: 9 Best Ship Simulator Games
City Bus Simulator
It's a bus sim that has everything you need to feel like a true coach bus driver. Firstly, the game offers an amazing multilevel experience, where you get to pick up people and drop them somewhere within a given time frame.
The graphics are so realistic that you'll feel like you're actually driving a bus. The game covers multiple locations, so you won't get bored going through levels. And don't forget that passengers can leave reviews, so do your best to not leave them disappointed.
Speaking of the bus, you get to drive a Euro Coach Bus, which is a treat in itself. The controls are smooth and responsive, making the driving exp incredibly enjoyable.
What's even better is that the app covers 4 different modes to drive buses, so you can mix it up and keep the game interesting. And if you're feeling competitive, there's an online and offline multiplayer mode as well.
But the best part of it all is that the game is completely free to play! No need to spend money on locked items and all that. The amount of ads is fully bearable, too, so no worries.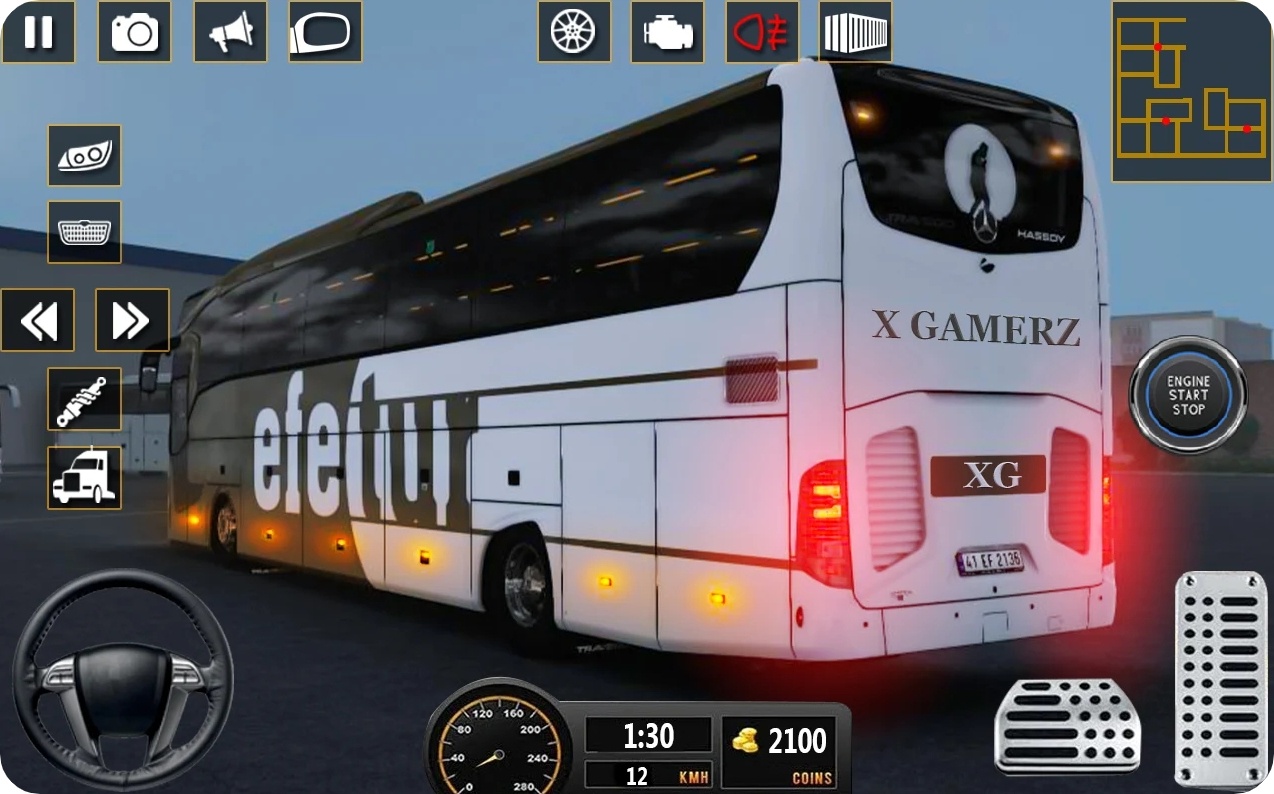 Coach Bus Simulator
Have you ever wanted to exp what it's like to be a coach bus driver? Well, now you can! This game is a perfect blend of relaxation and thrill as you drive a coach bus. It will take you on an incredible journey across different scenarios, where you'll take passengers from one city to another while showing them amazing places and landscapes along the way.
The coolest aspect of this one is the open world map. It lets you explore all sorts of environments and routes. And with incredibly detailed coach buses, you'll feel like you're really behind the wheel of a powerful vehicle.
You can even customize the look of your bus by writing anything you want on the side! But it's not just about driving: you'll also need to manage your company and hire drivers to help you complete your routes in a timely manner. And with animated people entering and exiting the bus, you get fully authentic vibes.
Of course, it wouldn't be a true driving sim without weather conditions and a day-night cycle, which add a whole new level of realism to the game. And if you happen to experience some realistic visual damage, don't worry, that's all part of the fun.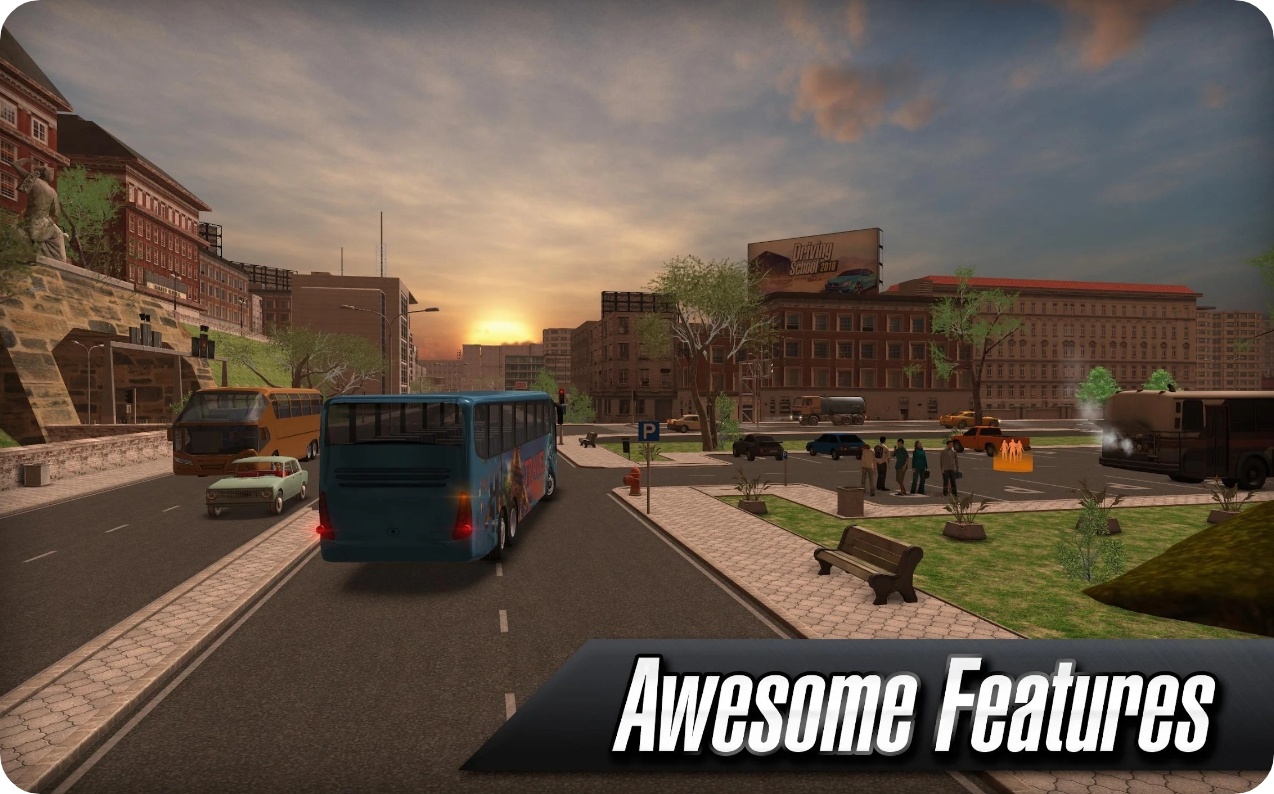 Bus Simulator Antistress
If you love a good bus game, you'll be particularly impressed by the collection of modern buses with gear and clutch options offered by this app. It really adds an entirely new level of realism and lets you fully feel the vibes. And realistic hilly mountains add up to a compelling driving exp.
Location design is one of the strongest aspects of the game. Nature is truly stunning, and the day-night cycle lets you catch some beautiful sunsets here and there. The concept is classic: you drive the bus, taking people from one spot to another.
The power steering controls are smooth and responsive, making it easy to navigate through even the most treacherous terrains. And the fact that it's an offline bus-driving sim game makes it even better! You can play this game anytime, anywhere, without worrying about a web connection.
The engaging, fun-based setup will keep you hooked for hours on end! From navigating through tricky terrains to making quick and safe stops, every moment spent playing is pure enjoyment. And the added bonus of ASMR sounds just makes the exp all the more relaxing.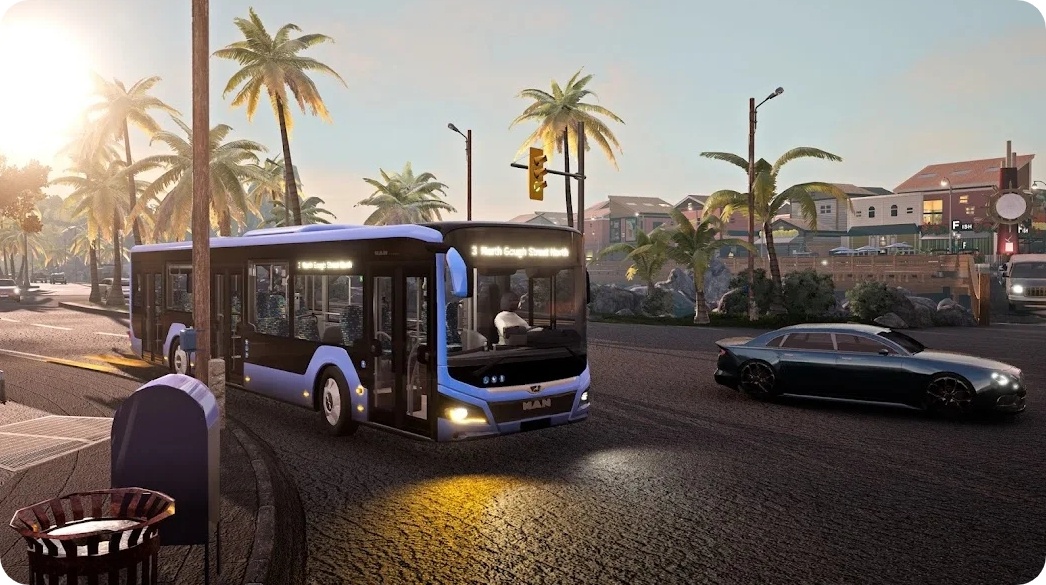 Check also: 21 Best Family Simulator Games
Bus Simulator 2023
Ready to exp the ultimate bus-driving sim? This game lets you do just that! Let's start with the maps. The developers have truly outdone themselves with their attention to detail. With an impressive array of realistic maps spanning the globe, you'll never run out of places to explore. The environments vary from mountain ranges to snowscapes, bustling city centers to tranquil countryside vistas.
The variety of buses is truly impressive, too. From diesel to hybrid, from coach to school buses, there's smth for every taste. You can tailor driving exp to match your needs, and even personalize the way buses look. You'll get countless ways to make your bus stand out, from paint to accessories.
Don't forget the interactive features, like opening and closing the doors, and watching animated passengers board and disembark the bus. Whether you prefer a structured career mode or the freedom of free-ride or multiplayer, this game has got you covered.
And the intelligent traffic system means navigating roads and other vehicles is always a challenge. There's even a bus company management system, enabling you to hire drivers and make custom routes.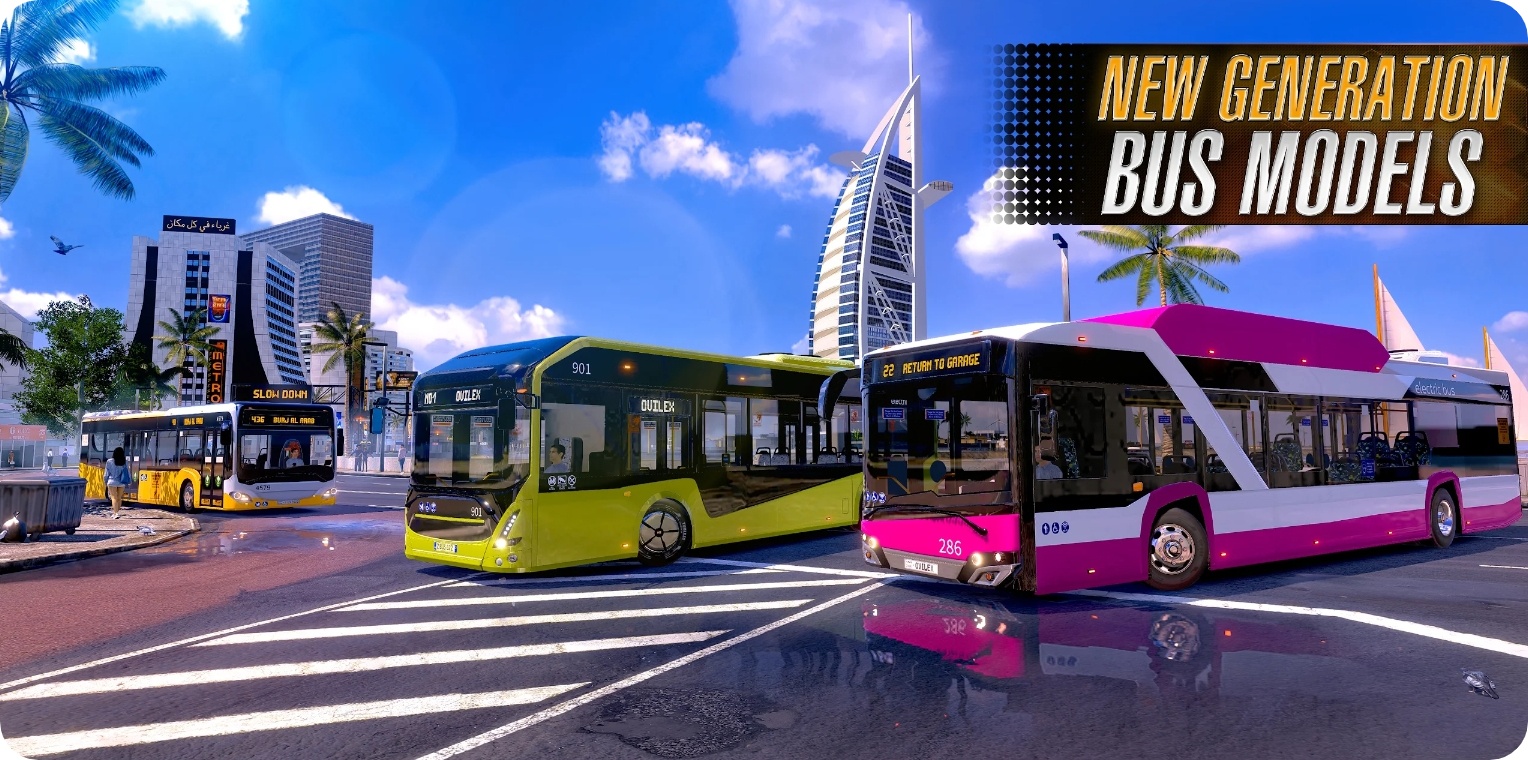 Bus Simulator Indonesia
This game lets you become a bus driver in Indonesia. It has an oddly specific concept, but the environment is incredibly fun to explore. The game covers authentic Indonesian cities and buses, cool and fun honks, and even the iconic call.
It even lets you design your own bus with a bunch of modification options. The controls are easy and intuitive, providing a smooth and enjoyable driving exp. The high HQ and detailed 3D graphics really bring cities and places to life, making you feel like you are actually driving through them.
One of the best aspects of this one is the absence of obstructive ads while driving. This allows for a more immersive exp where you can truly focus on the route ahead. Who wants to deal with annoying ads while trying to focus on the road?
Plus, the multiplayer and leaderboard add a competitive edge to it, making the game even more fun and challenging. You can contest with mates or compare your skills with other users worldwide.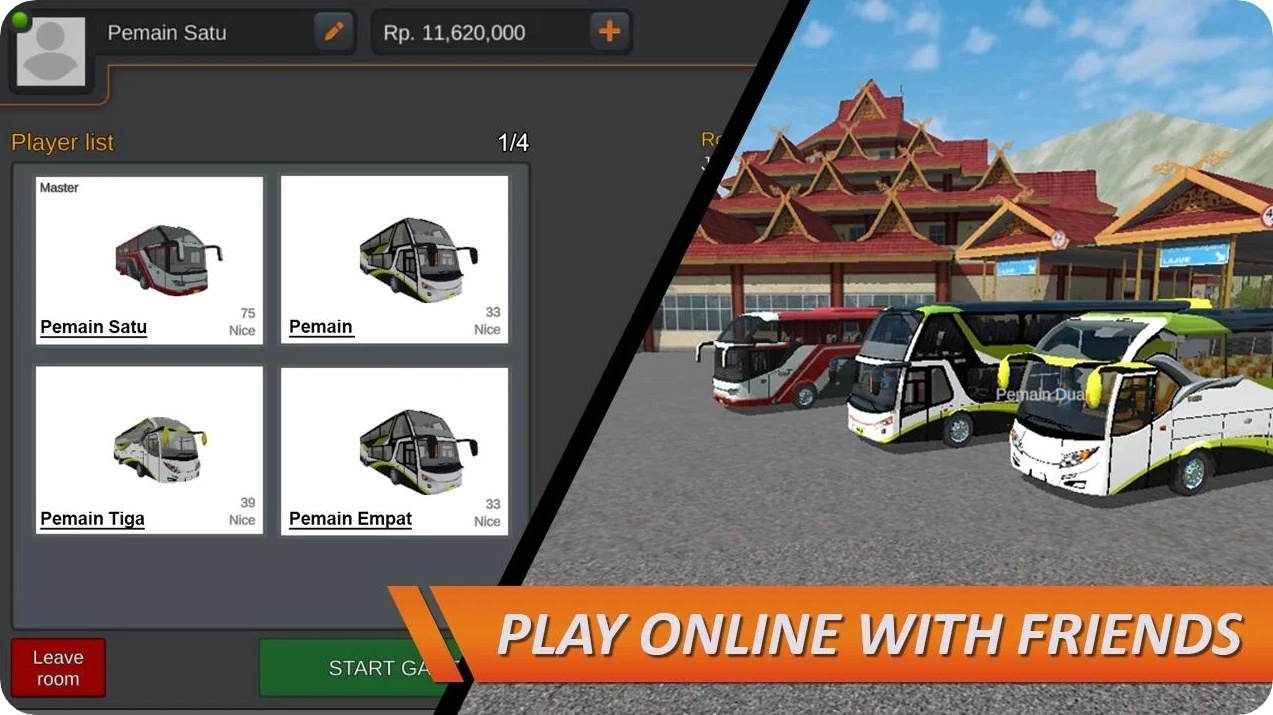 Bus Simulator
Indulge in the exp of being a coach bus driver with this game! It lets you relax after a long day while still being fun and addicting. Embark on an enchanting voyage through diverse landscapes and breathtaking vistas, as you transport people between cities, revealing the hidden gems in routes. Experience a journey of a lifetime with this enthralling game!
The app covers multiple locations, from cities to forest driveways. You'll get to fully appreciate nature, enjoy mountains, and explore multiple tows as well. Experience the power from behind the wheel of a coach bus with our game's incredibly realistic details. You'll feel completely immersed and in control as you navigate your way to your destination.
Personalize the exterior design of your bus with any creative option you prefer! However, driving the bus is only part of the fun. You'll also require competent management skills to hire drivers and ensure the timely completion of routes.
Naturally, a real driving simulation would have to include weather situations and a day-night cycle. These enhance the realism of the game, taking it to a whole new level. Plus, don't fret if you encounter visual damage, it happens all the time in this one.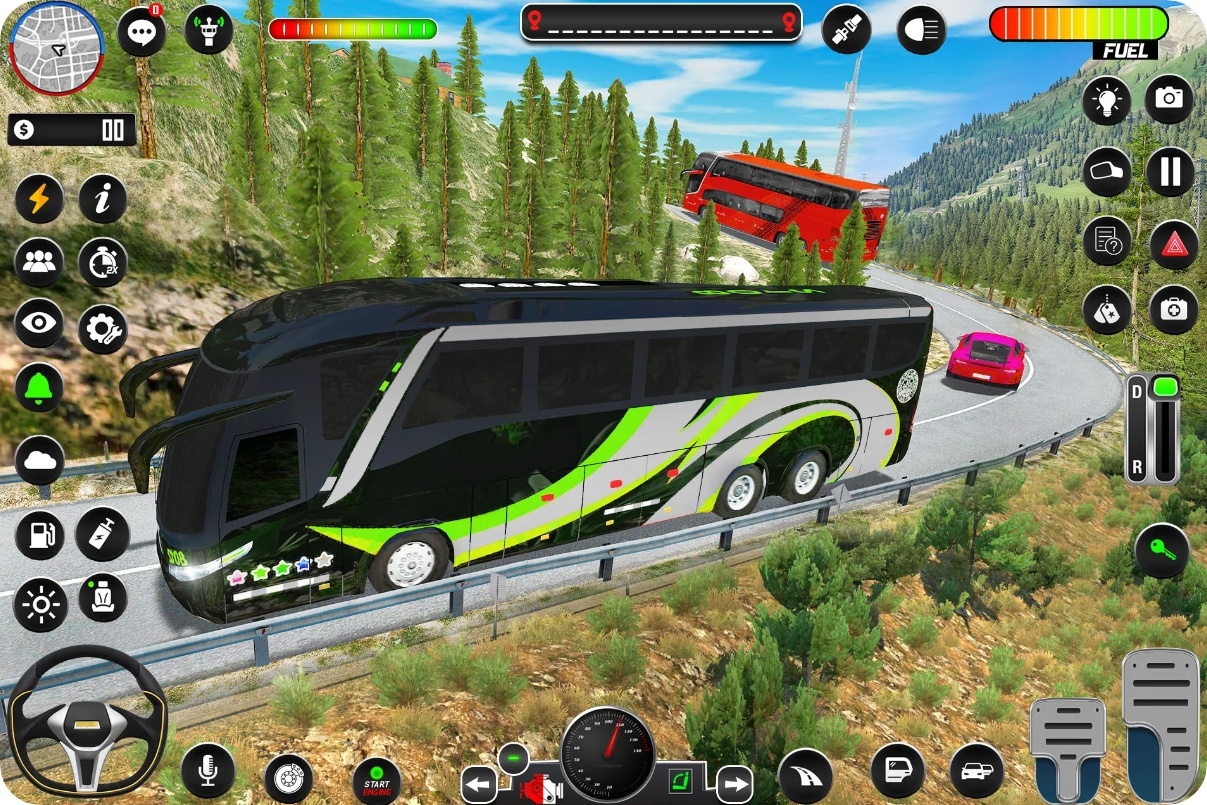 You may also check: 11 Best Excavator Simulator Games
Bus Simulator Multiplayer
This game is everything you want and more in a bus simulator. The attention to detail in the interiors is phenomenal and truly makes you feel like you're behind the wheel of one of these massive machines. The traffic is realistic too, so plan your drives wisely.
And let's talk about the buses: there's a wonderful collection of models, so you can find the perfect one that suits your style. The controls are smooth, making it a joy to drive these machines around.
The HQ graphics and stunning bus stations really add to the overall exp. And with the open world map, you can explore different cities and off-road mountains. The 3D city environment is so realistic, you'll feel like you're really there. And I have to mention the sound effects: these really add to the immersion factor of the game.
But what really sets this app one is the MP mode. Being able to drive around in the same world as other players and pick up passengers is an absolute blast.